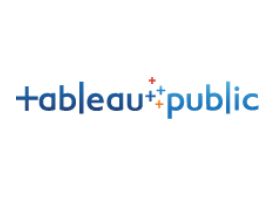 Sharing and communicating data sets with the world is the central idea of Tableau Public. Launched in 2010, Tableau Public is part of Tableau, one of the most popular data analysis tools for nonprofits all over the world. Packed with graphs, charts, maps and more, Tableau Public is a web platform to help people share and discover data stories, enabling users to communicate their data in an interactive and visual way. The software had 30,000 active users in 2013, ranging from nonprofits to political analysts and journalists. Nearly 20,000 visualizations are made in Tableau Public per month, attracting more than 25,000 million views per month in total. Tableau and Tableau Software are trademarks of Tableau Software Inc, a computer software company with a mission of helping people see and understand their data. Founded in California in 2003, Tableau is now headquartered in Seattle, US where it produces a family of interactive data visualization products focused on business intelligence: Tableau Desktop, Tableau Online, Tableau Vizable, Tableau Server, Tableau Public, and Tableau Reader.
Operating System
OS for viewing visualisations
Windows, iOS/Mac OS, Android
OS for creating visualisations
Windows or Mac OS
Data
Data source
Excel spreadsheets
Microsoft Access
Multiple text file formats
Statistical files
Web data connectors
Data manipulation and editing capabilities post-import
Yes
Available chart / visual formats
Pictures
Maps
GIS
Interactive dashboard
Cloud-based or self hosted?
Cloud
Additional Features
GIS (mapping) compatible
Yes
Languages / Translation availability
No, but compatible to store data in any language. User interface and supporting documentation are in English, French, German, Spanish, Brazilian Portuguese, Japanese, Korean and Simplified Chinese.
Management / Collaboration features
No
Share to other application users or collaborators
Yes
Share to application's public platform
Yes, published to Tableau Public database, or embedded into web pages.